Description:
Power over Ethernet+
The DGS-1005P features four Gigabit Ethernet ports that support the IEEE 802.3af and IEEE 802.3at PoE, supplying up to 30 W on each PoE port and providing a total power budget of 60 W.You can connect compatible devices to the DGS-1005P without using an additional power supply. This allows you to save on cabling and power supplies and to install devices on locations without immediate access to power outlets.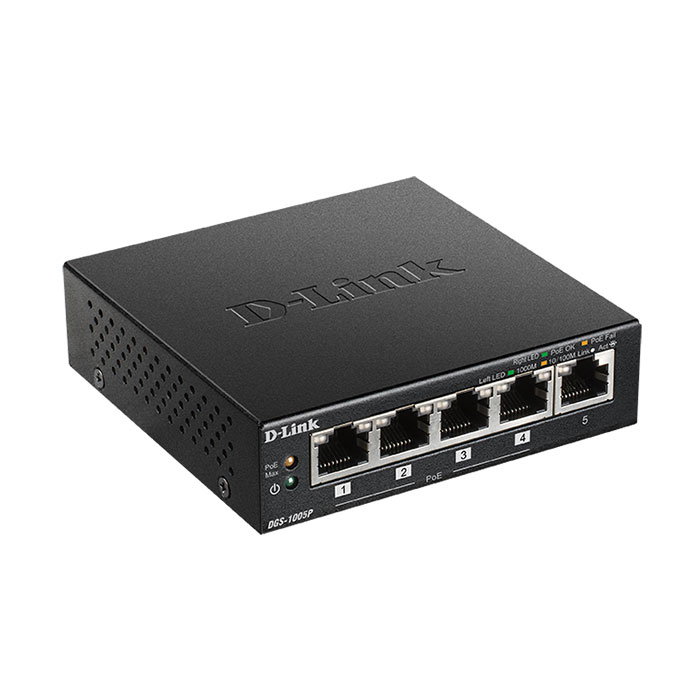 Green Technology
The DGS-1005P features green technology such as IEEE 802.3az Energy-Efficient Ethernet (EEE), link status detection, and cable length detection.EEE adjusts the power consumption of the switch based on network utilisation, reducing energy use during periods of inactivity. Link status detection powers down unused ports, saving power when connected devices are shut down or disconnected. Cable length detection adjusts the power output of the port based on the cable length, reducing the power requirements of the switch.
Compact and Silent
The compact design of the DGS-1005P allows placement in most locations, including those where space is at a premium.The desktop form factor provides everything you need to set up a new network or expand an existing network, while the fanless design ensures silent operation even in noise-sensitive areas such as workstations and meeting rooms.