Description:
Modularity maximized
Built for modern workspaces: The OptiPlex 7090 Ultra allows you to take control of your workspace with a modular form factor that combines the sleekness of an All-in-One with the flexibility of a desktop. Its unique compact design allows the PC to be hidden inside a custom stand which supports a wide choice of monitors to create a truly innovative and space-saving All-in-One solution.
The modular solutions to empower ultimate choice: The OptiPlex 7090 Ultra innovative form factor hides in a custom monitor stand capable of supporting up to 40" displays, mounts to an arm or on the wall for a versatile All-in-One experience. The Height Adjustable Stands, the Dell MSA20 Arm* and Offset VESA mount or the wall mount options respond to users' needs across multiple use cases and deployment scenarios.
Makes set-up a breeze: The OptiPlex 7090 Ultra, paired with Dell USB-C monitor offerings with new Quick Release functionality and matching Height Adjustable Stand, ensures future-ready connectivity, a one power cord solution and saves workspace set up time with reduced cabling. Create a clean and efficient solution with dual monitors to increase productivity by up to 21%.* The 7090 Ultra can support up to four monitors at once through DisplayPort Multi-Streaming Technology (MST) for ultimate productivity.
Performance optimized
Adapts as fast as you do: Transform your work experience with Dell Optimizer, the only built-in, AI-based optimization software for business that learns and responds to the way you work.* Features like ExpressResponse and Intelligent Audio intuitively analyze and adjust critical areas of your system, including performance, audio and more.
Get productive faster: Provides support for the latest technologies such as dual M.2 SSD options and RAID for high speed data access and security, WiFi 6, Thunderbolt 4 and USB-C without sacrificing traditional features such as Ethernet, DisplayPort, USB-A and traditional SATA hard drives. With configurations up to 64GB 3200MHz DDR4 RAM and dual storage with up to a 2TB SSD and up to a 2TB SATA hard drive.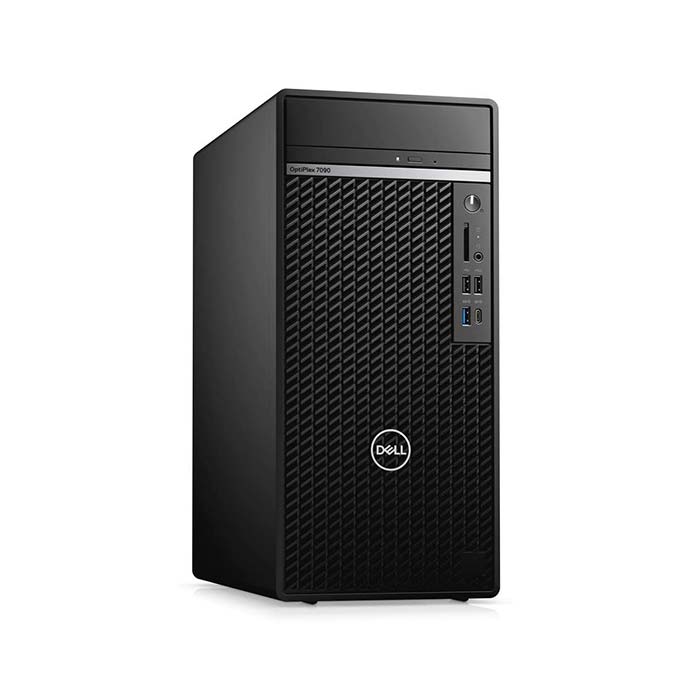 Smarter, faster meetings: Meetings are more productive with Intel Unite® software running on OptiPlex 7090 Ultra. This simple, customizable, wireless solution gets things started quickly with no adapters or dongles needed. Easy setup and usability virtually eliminates mid-meeting IT visits. Content is shared seamlessly to meeting rooms, remote users, and invited guests.
Peak performance: The OptiPlex 7090 Ultra features 11th Gen Intel® Core™ processors with up to a Quad Core™ i7 running at 28W and integrated Intel® Iris® Xe graphics for uncompromising performance. Intel® vPro processors offer businesses the performance, manageability, built-in security features, and stability of an Intel® platform.
Ready for every workplace
Low-touch IT: Ultra's tool-less chassis and Height Adjustable Stand lend quick access to internal components for fast service and deployments. Quickly deploy, service or swap each element of the solution independently for ultimate manageability, performance, and superior TCO.
Protect your investment: When it's time for a refresh, simply remove the PC module out of the stand and snap in a new one. The OptiPlex 7090 Ultra is backwards compatible with predecessor ecosystem for consistency and stability.
Secure hardware: OptiPlex is built with best in class security, featuring TPM 2.0, and K-lock slots and security screws on both the Ultra module and stands.
A one-of-a-kind modern client
OptiPlex 7090 Ultra configured with Dell Hybrid Client* software is a modern client solution with hybrid cloud management that lets users easily and securely access applications and data whether residing in the public cloud, private cloud or stored locally on the end-user's.
Intelligence built in. Modernization built on
We know that having the right device is just the start to a great workday. Employees need intelligent, intuitive and responsive experiences that allow them to work productively and without interruption. According to research, 1 out of every 4 users would question their job and the company they work for if they had a negative experience with their technology.*
Dell Technologies Unified Workspace is transforming the employee experience and ensuring IT has proactive, predictive and automated solutions to deliver on the promise of a modern workday, while simplifying their ability to deploy, secure, manage and support their environment.
Deploy: ProDeploy in the Unified Workspace allows IT to move away from traditional, high-touch, manual deployment, and instead, ship devices preconfigured with company apps and settings from the Dell factory directly to their end users—having end users up and working on day one.
Secure:Dell Trusted Devices provide a foundation to a modern workforce environment with invisible and seamless protection to ensure smarter, faster experiences. End users st