Description:
Unlock the full potential of document scanning
The fast and intelligent DS-770 sheet-fed document scanner is the ideal choice for business document management, offering world-class performance and versatility. Able to scan at speeds of up to 45ppm/90ipm at 300dpi, and handle 100 pages at a time thanks to its automatic document feeder (ADF), this powerful, compact scanner offers a wide range of media handling options that enable you to rapidly capture, index, store and share your business-critical documents.
Fast, reliable information processing
Due to the need for the effective automation of many back office and customer processes, the DS-770 scanner is designed to streamline record keeping while delivering high levels of security, reliability and scalability.These functions are aided by an ability to capture high-quality images (300dpi) at fast speeds. This is thanks to image enhancement features such as auto size crop, auto skew correction (hard edge) and colour slip reduction, performed by a high-performance, dual-core CPU with hardware acceleration built in.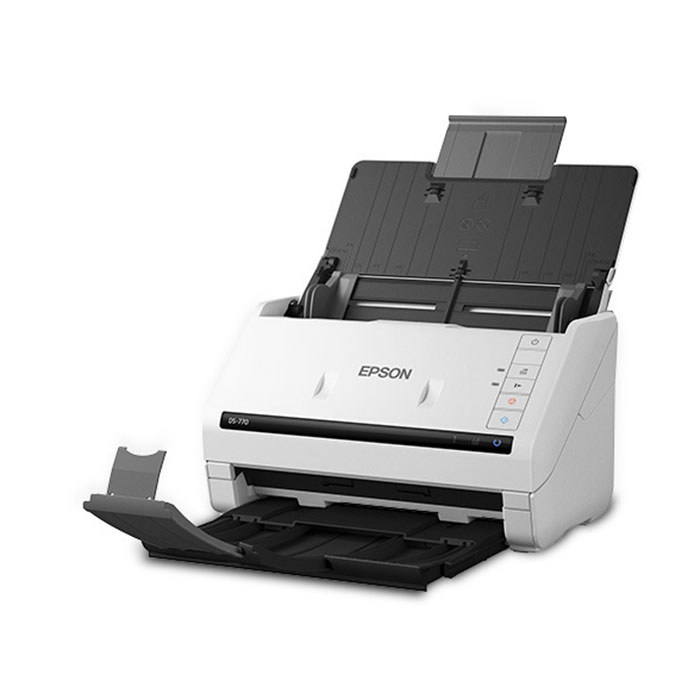 Flatbed scanner conversion kit
Our optional flatbed conversion kit has been specially designed to integrate perfectly with the DS-770, and takes up less desk space than a traditional flatbed scanner. It enables a wide range of media to be scanned effectively, such as postage stamps, passports, books and more.
Powerful imaging technology
Easily adjust images while scanning, using Epson's image enhancement software, with de-skew and auto-rotate functions. Advanced features such as barcode recognition and Zonal OCR allow quick document separation and easy file naming.
Dynamic and reliable document feed
Intelligent features, such as the Active Separation Roller System, help prevent annoying double-feeds, ensuring every sheet is scanned accurately and captured at the highest quality. Built-in ultrasonic sensors and paper length settings ensure completely reliable data capture.The active feeding system has at its core an innovative paper tray design that allows pages to be scanned more easily by reducing the friction between the tray and the page to be scanned. This enables media to pass through the scanner smoothly, minimising feed errors.Our Double Feed Detection Skip function allows difficult media – such as envelopes or documents with Post-it notes – to be easily and rapidly scanned, at the touch of a button, without being detected as a fault.